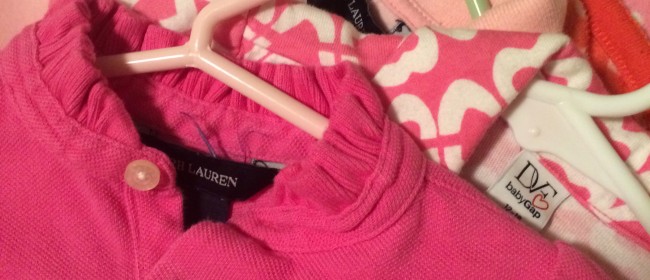 I admit it – my daughter is a pretty stylish tot. And while her closet is filled with designer baby and toddler clothes, I didn't pay designer prices for them. In fact, they were mostly free. My daughter has been lucky enough to receive a host of hand-me-down clothes from friends and family as well as a bunch of cute clothes as gifts.
Though I've done more cute clothes browsing than shopping so far, I know that eventually I'll need to start spending more money on little clothes. Plus, I know that many parents aren't as lucky as we've been in the freebie clothing department. So for tips on how to score stylish designer baby and toddler duds for less, I turned to Jessica Pallay, one half of the stylish mamma team over at Well Rounded NY and a new contributor to Hint Mama. Here's her first hint: nine tips for finding budget-friendly designer baby fashion.
Admit it: the minute you found out your baby's gender, you started shopping for his or her wardrobe. There's something about those teeny, tiny, little outfits (nowadays even for boys!) that makes us go weak in the knees and forces us to pull out our wallets over and over again, despite our best efforts to control the urge. Most of the mamas we know at Well Rounded NY had created a crave-worthy closet for their little one before that babe even arrived!
But hold onto that cash, mama-to-be! Having a baby is not cheap. Recently, Hint Mama told us that according to Baby Bargains, you will spend at least $7,000 on baby goods during that first year. But we all know you just cannot sacrifice style, so here's a few of our favorite tips on getting designer baby style without breaking the bank.
Buy Them: Yes, I know I said "hold onto your cash," but it's okay to let go every now and then, especially when you know you're getting a great deal. These five tips can help with that:
1. Shop online. Those flash sale sites you've grown to love while "slaving away" at your office desk also have entire sections dedicated to baby. I keep a close eye on the kids' offerings of some of my faves, like Gilt and Hautelook, but since becoming a mom, I check out baby-friendly options like Zulily too.
2. Get social. The best way to find out if that adorable designer romper you've been crushing on has gone on sale is to stay tuned into that brand's Twitter, Facebook and Instagram accounts. Even retailers like Bloomingdale's have subscriber-only flash sales, so it pays to be a part of their social networks.
3. Off-price is the right price. If you've got the patience to pick through racks, try an off-price retailer like Century 21. True, you didn't really need that Roberto Cavalli baby bodysuit, but at 40% off, how could you pass it up?
4. Go vintage. If you've ever had a baby, you know that very few of his clothes get worn more than once.. . . meaning they're in great shape when they're cast off to the vintage shop. There are some great vintage shops out there, and when the weather gets brighter, you can't beat a great flea market for second-hand finds.*
5. Find sample sales. If you're lucky enough to live in a city like NYC, then you're privy to sample sales galore, and when it comes to baby goods, they're ripe for the picking. While those single gals swarm the ladies' racks, you get free reign of the baby boxes. The drool-worthy (literally) Splendid Littles sale is worth a trip to the Big Apple alone, mamas!
Trade Them: Your trash is someone else's treasure.
6. Swap meets are sweet. If you pay close attention to your community news, you'll often come across a swap-meet of sorts, whether it's in your local library, a church basement, or in the case of our NYC fave, Little Swappies, at the incredible Avenues private school! Bring some goods and take home someone else's. . .for free!**
Borrow Them (Then Give Them Back!): You'll be amazed how fast baby grows, so buy into some fast fashion — literally.
7. Rent it. We just heard about Wearhop and the concept is genius: think Rent the Runway but for your mini-me! Order outfits you can hang onto for anywhere from one to six months, and then send them on back just as your little one is reaching his or her next size.
8. Ask for hand-me-downs. The best place to shop for baby is in your friends' and family's old closets. You may think your kid will never wear those slightly faded purple harem pants and then suddenly he's rocking them in every picture you took between 4 and 6 months. Just say thank-you, and remember to store whatever survives — your little sister will thank you when it's her turn to rummage.
9. Join a local listserv. In addition to answering all your new mama questions and providing leads on great caregivers, a parenting listserv is also a private marketplace filled with local moms that want to find happy homes for their favorite baby stuff. I could stock a shop with the number of fancy baby clothes I've shared with my own group, and know plenty of moms who feel the same way about their own neighborhood gang.
What did I miss? What are your favorite tips for finding budget-friendly designer baby fashion?
Jessica Pallay, a Brooklyn mama of two, is the editor and co-founder of Well Rounded NY, a website that helps women navigate and celebrate pregnancy and motherhood in the city. A former editor for Women's Wear Daily, Jessica now curates the best in style, beauty, wellness, gear, travel, food and more for pregnant New Yorkers and new parents. Find her online at WellRoundedNY.com, or follow Well Rounded NY on Facebook, Twitter and Instagram.
*Note from Hint Mama: If you'd rather shop used from the comfort of your home or office, some friends have told me that thredUp is a great resource for finding gently used designer baby clothes online.
**Note from Hint Mama: Another swap-meet resource to check out: Double Dutchery (an online swap for gently used kids'  clothing).

Follow Hint Mama on Facebook and Twitter, and read more about her and her disclosures.